News
Despot PUTIN invades UKRAINE !
What is happening, where is under attack and what could be next?
Large explosions are heard in Kyiv and Kharkiv, and military command centres have been struck, according to Ukrainian media.
Russia has launched a "full-scale invasion of Ukraine", the Ukrainian foreign minister has said.
Russian President Vladimir Putin told his citizens he had begun a "specialised military operation".
Ukrainian police have said Russia has carried out more than 200 attacks since Thursday morning and fighting is going on in almost every part of the country.
Where is military action taking place?
Conflict is reported in the following cities and areas:
Ivano-Frankvisk – missile understood to have hit Ukrainian air base
Podilsk – reports of at least six Ukrainian soldiers killed
Kyiv – explosions heard, a fire reportedly near the river and reports of fighting at a nearby airfield
Ochakiv – fire reportedly seen at the port
Mariupol – Ukrainian tank column seen heading for the city
Kharkiv – deep breakthrough of Russian troops reported, along with death of young boy
Lviv – shelling reported nearby
Senkivka border post – images appear to show Russian troops crossing the border
Luhansk – Ukraine claims it has killed 50 Russian troops
Chuhuiv – Sky News understands missile has struck air base
Odessa – Ukraine says at least 18 people killed in missile strike
Sumy and Kherson – Ukraine claims fierce fighting under way
Donetsk – explosions reported with Ukraine claiming four people killed
Brovary – at least six people reportedly killed
US defence officials have said Russia has targeted Ukraine using three main axes of assault – one from the south in Crimea heading north to Kherson; a second from the north in Belarus going south to Kyiv and a third from the northeast moving south towards Kharkiv.
Kharkiv
In Kharkiv, in the northeast of the country, command centres have been hit by missiles, Ukrainian media reported.
British expat Harry Lee, who is in the city, told Sky News he woke up to "five or six" bombs going off at around 5.15am and, at one point, the explosions caused his building to shake.
Shelling has also been reported across the city, with Ukraine's emergency service reporting a young boy had been killed when an apartment building came under fire.
An adviser to Ukraine's presidential office added that more than 40 Ukrainian soldiers were dead and dozens have been wounded.
Ukraine's military said it had destroyed four Russian tanks on a road near Kharkiv, where US officials believe the heaviest fighting has been taking place.
Chernobyl
A Ukrainian presidential adviser said his country has lost control of the Chernobyl nuclear site to the Russian after a fierce battle.
President Zelenskyy said the attack on the area around the former nuclear disaster zone was a "declaration of war against the whole of Europe".
Luhansk
In addition, it said it had killed 50 troops near a town in the Luhanskregion and downed six Russian warplanes in the east of the country.
Russia has denied reports that its aircraft or armoured vehicles were destroyed and has claimed to have downed two Ukrainian planes and destroyed 74 Ukrainian military facilities, including 11 air bases.
The country's investigative committee has also claimed that three people have been injured by Ukrainian shells in the southern Belgorod region, near the border.
Kyiv
In Kyiv, the Ukrainian capital, an explosion has been heard, with Sky News' Mark Austin reporting that smoke could be seen rising over buildings.
Military command centres in several cities, including Kyiv, have been targeted by missile strikes, according to a Ukrainian interior ministry official.
Following the explosion, an adviser to Ukrainian President Volodymyr Zelenskyy said the country was being hit by a "second wave" of missile strikes.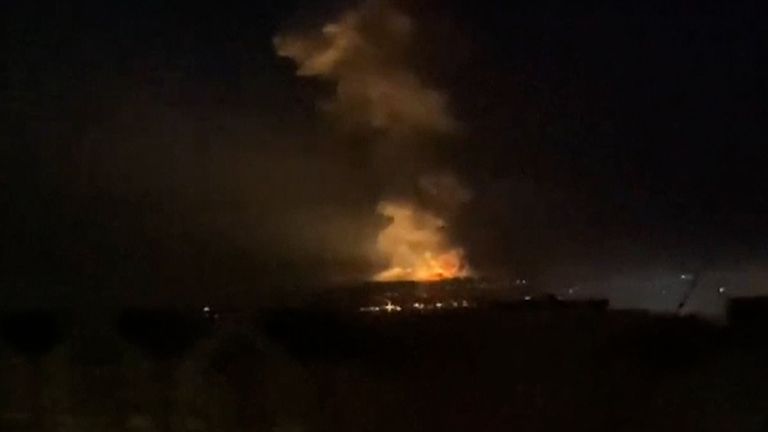 A Ukrainian armed forces' Antonov aircraft has also been shot down in Kyiv, according to the state emergency service.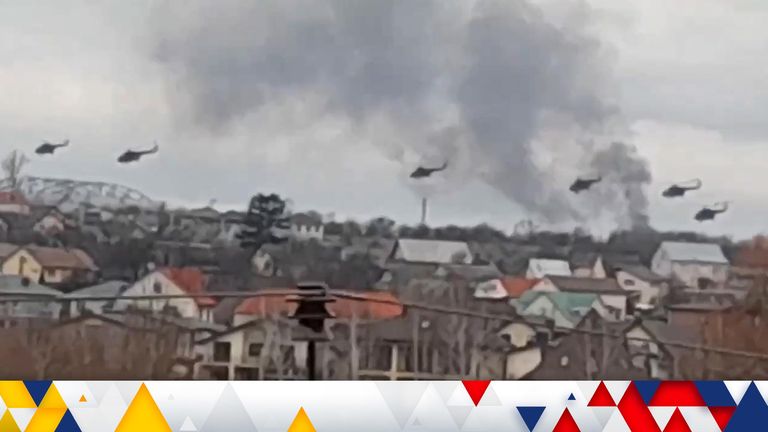 Brovary and Trypilska
In Brovary, a town just outside the capital, at least six people have been reportedly killed by a series of missile strikes, local authorities have said.
Also not far from the main city, an explosion has occurred at the Trypilska power station, Ukraine's energy ministry reported.
Ivano-Frankivsk and Chuhuiv
In Ivano-Frankivsk, Sky News believes, after reviewing a video through an extensive verification process, a missile strike has taken place on a Ukrainian air base.
Source: ANTNEWS, SKYNEWS, GRT